Sailing courses in Stockholm, day courses, four days.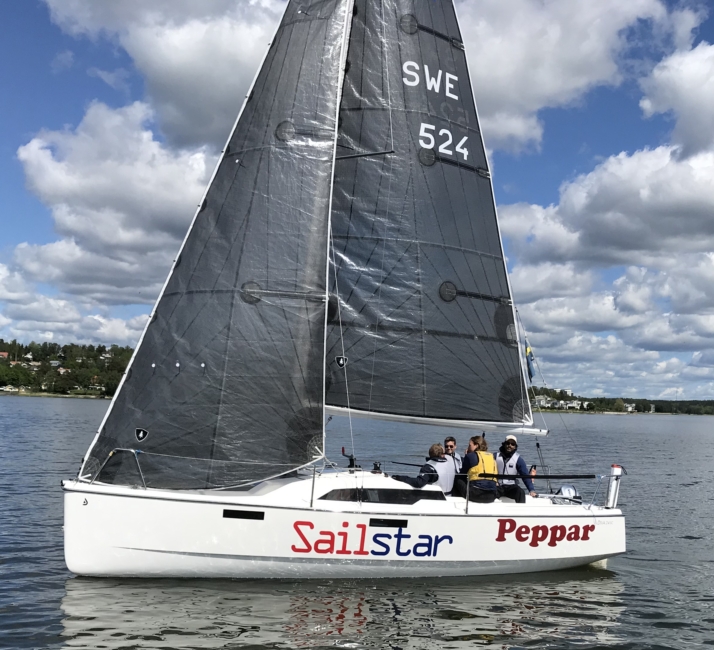 Amazing and intensive basic courses on our smaller sailing boats. There are day classes and we depart from Viggbyholm, Täby. The courses are arranged either over two weekends (spring and late summer) or Thursday to Sunday (summer) and they go In parallel with our dinghy courses, it's a good idea to try also the dinghies if you want. You learn a lot about sailing but also a part about handling a sailboat, docking, easier navigation, give-way rules. The courses on our tailor made Diva 24: gives you a lot of sailing and there are max four participants per instructor when sailing.
The courses will give you Sailing Certificate 1 and if you have this and Yachtsmans certificate (Förarintyg) you can get Sailing Certificate 2. (Sailing certificates for an additional fee, see notification.)
Five days course with accomodation! This year Sailstar once again will be at Gistholmen for sailing courses! We have been there many years since the start 2010 and now we return after Gistholmen has been renovated and reconstructed. Two weeks, week 32 and 33 we will have our courses at Gistholmen with both our dinghies and the Diva 24 keelboats. The courses will be 5 days each. Read more (In Swedish)
August 5 - 9, Gistholmen
August 12 - 16, Gistholmen
Read more about Gistholmen!
Previous knowledge: None. this is a basic course. However, participants must be able swim 200 meters in open water.
Location Viggbyholm, Täby. Education day 09.00 - 16.00
Price: 4 950 SEK
Documentation: Our own course book "Sailing grounds 2.0" includes, value 169 SEK. .
Language on the course: Most of our courses are primarily in Swedish but some of the courses are primarily in English. On the registration pages you will see which language is the primary course. The instructors are Swedish and English speaking.
Course content: You learn how to sail and handle a smaller sailboat. The focus is sailing but also manouvering, docking, navigation give-way rules and others are included. See more about the course content here
Booking: See course offerings and book here. You pay 1,500 SEK in registration fee and remaining course costs no later than 14 days before the start of the course. In case of late registration, the full amount is paid at one time.
Introduction course: It is possible to only attend the first two days, we call this an introduction course. The price is SEK 3.250. Contact us per em-ail to book this. See course overview for courses.