Sailing courses in Stockholm archipelago on a large 50 feet yacht.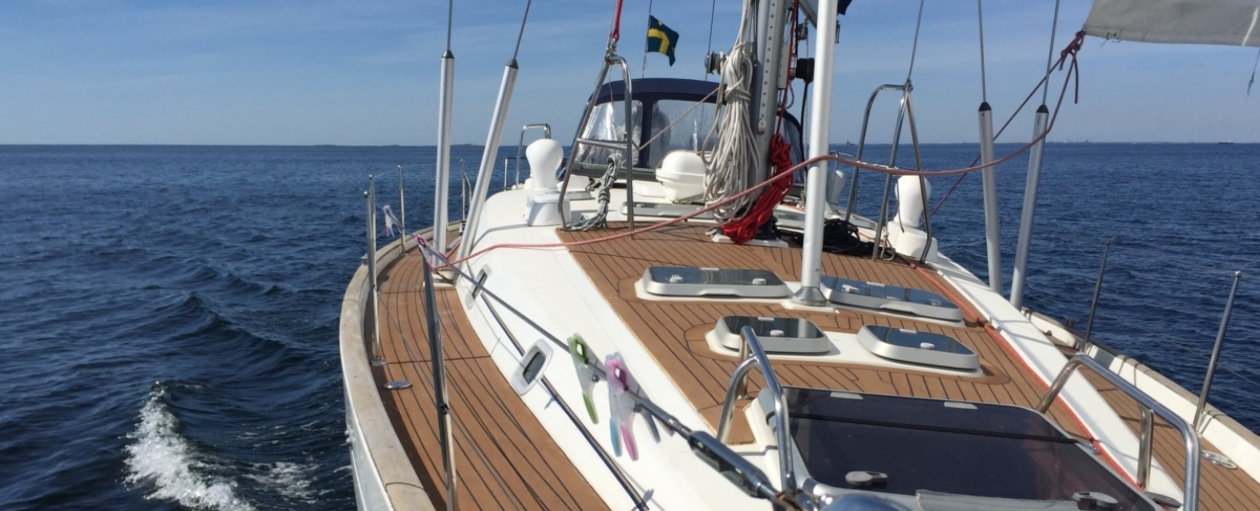 Our popular basic courses on a larger sailyacht are based in Viggbyholm, Täby and take us on a trip to the Stockholm archipelago. We live aboard, 4 days, 3 nights on our large and spacious 50 foot Beneteau 50 with seating for 6 participants. The boat has 5 cabins, a large lounge with kitchen and necessary security equipment.
The course gives you a lot of sailing but also maneuvering and addition with larger boats. We also go through easier navigation and of course give-away rules (included in all our courses). Our instructors are experienced and with Yachtsmans diploma Class VIII. The courses give you Sailing certificate 1 and if you have this and Yachtmans certificate (Förarintyg), you can get Sailing Certificate 2. (Sailing certificates for an additional fee, see registration.)Providing (food and beverage purchases) is made by Sailstar before the start of the course, food and drink costs are added at cost 400 SEK and a dinner at an archipelago restaurant is not included in the course fee.
Previous knowledge: None. this is a basic course. However, participants must be able swim 200 meters in open water.
Location: Starting from Viggbyholm, Täby at. 09.00 the first day and will be back on your last day at 16:00
Price: SEK 6 450, accommodation on the boat is included. Food and drink at self.cost price (400 SEK per person) as well dinner in an archipelago restaurant will be added.
Documentation: Our own course book "Sailing grounds 2.0" includes, value 169 SEK.
Language on the course: Most of our courses are primarily in Swedish but some of the courses are primarily in English. On the registration pages you will see which language is the primary course. The instructors are Swedish and English speaking.
Course content: You learn to sail and get trained to handle a big sailboat. See more about the course content here
Booking: See course offerings and book here. You pay 2,000 SEK in registration fee and remaining course costs no later than 14 days before the start of the course. In case of late registration, the full amount is paid at one time.