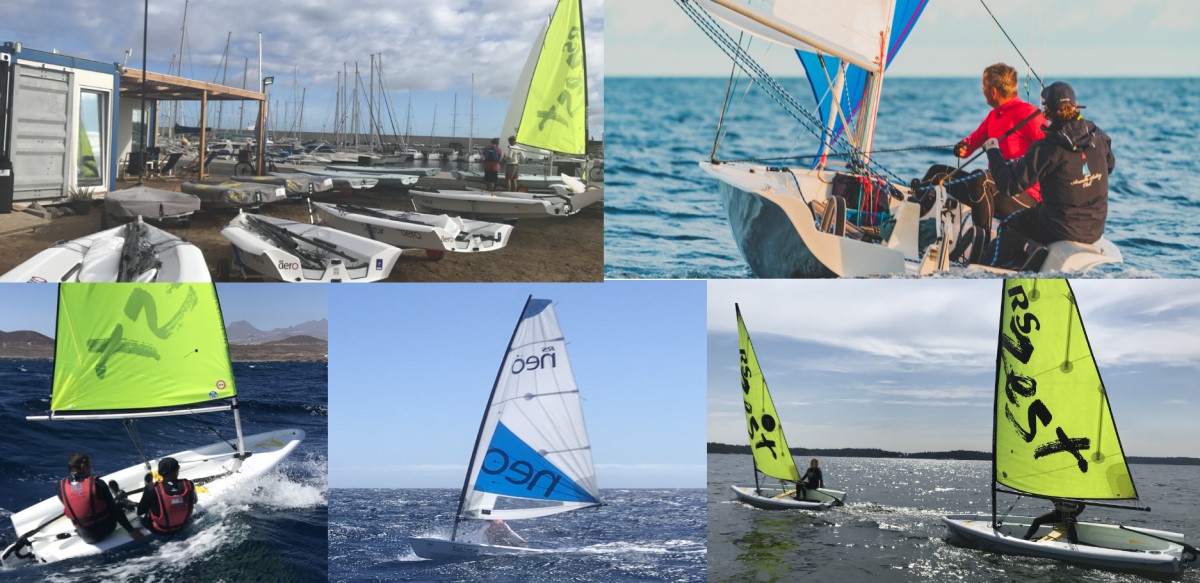 Basic courses dinghy
The courses and trainings/camps at Tenerife is arranged by Sailstar at San Miguel Marina on the south east coast of Tenerife, by Amarilla Golf, Golf del Sur. The basic courses are four days basic courses in dinghy sailing, the base of all sailing. We use tyhe dinghies RS Zest and eventually the Sigma day sailors. The courses are for adults (age from 16) or adults together with kids.
Sailstar basic courses leads to the sailor certificate Sailor diploma 1 according to NFB, equivalent to RYA level 1 plus level 2. See the course contents for more info about the contents. The certificate can be booked for an additional fee of € 45
We arrange courses about once per month with 8 participants. See schedule for info! There are always possiblities to arrange other basic courses or trainings, talk to us!
You learn the basic steps fo sailing! The weather is pleasant at Tenerife, both in water and air. Air temperature about 20-24 degrees Celsius and water temperature 19-22 degrees.
Read more about basic courses at Tenerife.

Dinghy sailing, rent a sailing dinghy
There are also the option just to come here, have a dinghy prepared for you and just pure dinghy sailing. We set up a course together, or we decide to make a common trip to a nearby village for lunch or play with the dinghy outside the marina. You book yourself for any period, from 1/2 day to many days, select standard boat (RS Zest, RS Neo) or advanced (Laser, RS Aero) The RS Zest can be sailed as singlehander or doublehander. Lasers has all different rigs (4.7, radial and std) as well as the RS Aero that comes with 5, 7 or 9 m² rig This is a splendid opportunity for you that want to be active at your vacation and practice your dinghy sailing. We have rescue boats and/or we sail together with you. We have life wests, wetsuits and wetsuit socks for you!
Book your dinghy directly from Winterdinghysailing.com!


Club dinghy sailing camp
Book yourself and your club for a week of dinghy sailing at Tenerife! We have the dinghies for you, Lasers, RS Aeros, RS Zest and a couple of RS Neo. A dressing room and a place for theory. Of course rib boats for safety. You bring dinghy sailors and possibly a coach. We have the single/doublehanded RS Zest (4 boats), singlehanded RS Neo, Laser (all rigs)(6 boats) and RS Aero (all rigs)(4 boats).
Our instructors and coaches
Javier Hernandez Cebrian "Bull"
Bull sailed for the Spanish national team both in Beijing Olympics 2008 and in London 2012. He has a list of titles behind him in Laser sailing and works now full time as a coach in Laser sailing. We are very proud to have him as a coach for us at Sailstar!
Emil Bengtson
Emil is a Laser sailor in the Swedish national team and is going for the Olympics in Paris 2024. Emil works as a coach for Sailstar and have especially master trainings during winter at Tenerife.

You need to know: For basic courses: Nothing, except being able to swim 200 meters in open water. For the dinghy sailing weeks you need to know how to sail a dinghy.
Location: San Miguel Marina, Amarilla Golf, Tenerife
Price: EUR 545. Sailing course four days and documentation included. Swedish and English speaking instructors.
Language: The most of our courses are primary in English.
Basic course contents: You learn to sail. Focus is sailing but you will also learn about manouvering, handling a dinghy, navigation, give-way rules and more More about course contents!
Travel and accomodation: The place we are at is Marina San Miguel at Amarilla Golf. It is close to a number of hotels and there are also numerous AirBnB places. It isn't far to Los Cristianos (but to far away for a walk).
Booking: See courses and book here! The reservation fee is EUR 150 and the remaining cost to be paid 2 weeks before the course start. It is possible to pay by card.